Almost Martha's Pumpkin Pancakes (Milk-Free)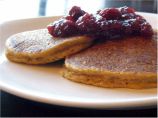 Photo by Dairy-Free Foodie
Prep Time: 10 mins
Total Time: 20 mins
Serves: 4, Yield: 12 pancakes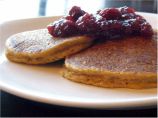 Photo by Dairy-Free Foodie
About This Recipe
"I adapted this recipe from one created by Martha Stewart. Too keep them fluffy, go with the lesser amount of pumpkin (which just offers a hint of pumpkin flavor) and use all-purpose flour. But if you like them more pumpkin-y or prefer a dense pancake, feel free to increase the pumpkin and / or go with a heartier flour blend."
Ingredients
1 1/4 cups all-purpose flour (or combination of the two) or 1 1/4 cups whole wheat pastry flour ( or combination of the two)

2 teaspoons baking powder

1 1/2 teaspoons pumpkin pie spice ( or you can use 1/2 teaspoon each of ground cinnamon, nutmeg, and ginger, plus an optional pinch of c)

1/4 teaspoon ground cinnamon

1/4 teaspoon salt

2 tablespoons brown sugar, firmly packed

1/3-1/2 cup pumpkin puree

2 tablespoons oil ( I used grapeseed)

1 large egg

1 cup vanilla almond milk ( rice milk, soymilk, or other milk alternative will also work, you can also substitute 1 cup of plain)
Directions
Into a medium sized bowl, sift together the flour, baking powder, spices, and salt.

In a separate bowl, combine the sugar, pumpkin, oil, and egg until homogenous.

Stir in the milk alternative, followed by the flour mixture. Stir until just combined; no need to overmix, a few lumps are okay.

Set that aside and heat a wee bit of oil in a skillet over medium or medium-low heat (depending on how finicky your stove is).

Scoop about 1/4 cup of batter per pancake into the skillet and cook for roughly 3 minutes per side, give or take. The tops of the pancake will have bubbles breaking at the surface when it is time for that first flip.

Serve topped with leftover cranberry sauce (as I did), pumpkin butter, or the traditional maple syrup.

This batter also works well for waffles.