Vegan Gingerbread Cut-Out Cookies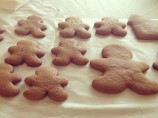 Photo by Gingita
Prep Time: 20 mins
Total Time: 28 mins
Yield: 24 cookies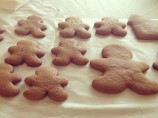 Photo by Gingita
About This Recipe
"This egg-free and dairy-free recipe for a chewy gingerbread cookie is from Sarah Kramer's cookbook, "La Dolce Vegan!" (2005) and reprinted in today's local paper. For vegan frosting, use five parts icing sugar to one part water, blending until thick. or you can use chocolate peanut butter spread. Dough must chill for 2-4 hours. (While baking the first batch, return the dough to the fridge to chill it so dough doesn't stick to the rolling pin. Allow cookie sheet to cool before reusing.)"
Ingredients
1 1/2 cups flour

1 teaspoon baking powder

1/2 teaspoon baking soda

1 teaspoon ground cinnamon

1/2 teaspoon ground ginger

1/4 teaspoon allspice

1/4 teaspoon salt

1/3 cup vegetable shortening

1/4 cup sugar

1/3 cup molasses

2 1/4 tablespoons hot water

1/2 teaspoon pure vanilla extract
Directions
In medium bowl, mix flour, baking powder, baking soda, cinnamon, ginger, allspice and salt. Set aside.

In large bowl, cream shortening and sugar with fork. Stir in molasses, hot water and vanilla with large spoon. Stir in flour mixture until smooth, 1 minute.

Cover dough. Chill 2 to 4 hours.

On lightly floured surface, roll out dough. Cut out shapes. Bake on cookie sheet in 400F oven 8 to 10 minutes, depending on size. Cool on sheet. Decorate as you like.