The Great Canadian Butter Tart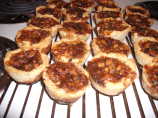 Photo by KitchenWitch77
Prep Time: 40 mins
Total Time: 1 hr
Serves: 8-12, Yield: 24.0 tarts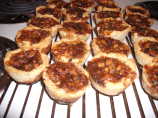 Photo by KitchenWitch77
About This Recipe
"This recipe is based on one I found taped into a used cookbook and tweaked to my liking. This is the closest I've come to the heaven that is my grandmother's butter tarts."
Ingredients
1 batch double crust pie crust

2 eggs

1 1/2 cups packed brown sugar

1/2 cup corn syrup

4 tablespoons butter, melted

1 cup currants

1/2 cup walnuts

2 teaspoons white vinegar

1 pinch salt

1/2 teaspoon vanilla extract
Directions
Preheat oven to 350 degrees Fahrenheit.

Beat eggs well; add sugar, corn syrup, and melted butter and beat until combined.

Add currants, walnuts, vinegar, salt and vanilla extract; mix vigorously.

Place circles of unbaked pie pastry into cornmeal-sprinkled muffin pans or silicone muffin cups. Paper cups work in a pinch as well.

Fill the shells 3/4 full and bake until the pastry is lightly browned, approximately 20 minutes. For a runnier tart reduce baking time to 15-17 minutes.