Indonesian Vegetable Sour Soup (Sayur Asam)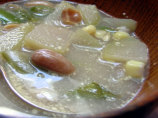 Photo by Rinshinomori
Prep Time: 25 mins
Total Time: 45 mins
Servings: 4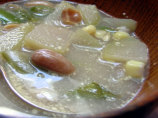 Photo by Rinshinomori
About This Recipe
"This soup (Sayur Asam) is one of the most popular soup in Indonesia, particularly in East and Mid Java. Easy to cook and can be enjoyed with any complements, such fried chicken, fried tempe, fried tofu, steamed rice and sambal. You can enjoy it in every occasion. But, usually Indonesians serve it in mid day."
Ingredients
1 teaspoon tamarind pod

200 ml warm water

1 shallot, sliced

3 garlic cloves, minced

1 inch fresh ginger, peeled and sliced

1 red chili pepper, seeded and sliced

3 tablespoons raw peanuts

1 teaspoon shrimp paste

1/2 teaspoon salt

5 cups low-fat chicken broth

1/2 cup salted peanuts, coarsely chopped

2 tablespoons brown sugar

1 chayote, peeled, seeded, and sliced thin

1/2 cup frozen green beans, ends trimmed

1/3 cup frozen corn kernels
Directions
Prepare tamarind by placing it in a small bowl with warm water. Let soak for 15 minutes.

To make spice paste, combine shallot, garlic, ginger, red chili pepper, raw peanuts, shrimp paste, and salt in a large mortar and blend well with a pestle. Use a food processor or blender if you don't have a mortar and pestle.

Transfer paste to a medium saucepan and add chicken or vegetable broth, salted peanuts, and brown sugar. Stir to combine, and cook over medium heat for 15 minutes.

Meanwhile, use a strainer to separate the tamarind seeds from the juice. Throw away the seeds and keep the juice.

Add chayote, green beans, and corn to the soup, and cook over high heat for 5 minutes.

Just before serving, add tamarind juice and stir. Garnish with green chili pepper slices if desired.