My Chai Tea Mix Gift in a Jar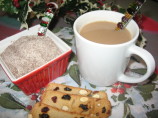 Photo by Chicagoland Chef du Jour
Prep Time: 5 mins
Total Time: 5 mins
Servings: 36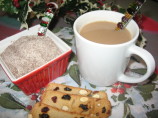 Photo by Chicagoland Chef du Jour
About This Recipe
"Watch out Starbucks, you'll be out of business in no time. When word gets out about this easy to make mix you'll be crying the blues. It makes a lovely Christmas Gift in a Jar or heck make it for yourself and drink up every morning, and skip the 5 buck trip to Starbucks. The nutmeg and allspice is an added spice hit, use as desired. Also, I've been playing around with the amount of sugar, I like the sweetness with just 1/2 cup sugar. If you don't care for the residue in the bottom of your cup, I understand you can strain it with a fine sieve. Food for thought. Note 12-21-12 (I want to thank the gal that just reviewed The Chai Tea.... she used it in her K coffee machine by just running hot water into the cup, perfect temperature for the tea mix)"
Ingredients
1 cup nonfat dry milk powder

1 cup non-dairy powdered coffee creamer

1 1/2 cups french vanilla non-dairy coffee creamer

1 cup sugar ( you can use from 1/2 cup to 1 1/2 cups sugar)

2 1/2 cups unsweetened instant tea

2 teaspoons ginger

2 teaspoons cinnamon

1 teaspoon clove

1 teaspoon cardamom

1 teaspoon nutmeg (optional)

1 teaspoon allspice (optional)
Directions
Mix milk powder, non-dairy creamers, sugar, instant tea,ginger,cinnmon,cloves,cardamon,nutmeg and allspice.

Blend 1 cup at a time in a food processor until mixture is the consistency of fine powder.

Store in an airtight container.

To serve: Stir 3 tablespoons Chai Tea Mixture into a cup of hot water.

For an extra caffine punch; add an additional 1 teaspoons instant tea or add Chai Tea Mix to your cup of brewed tea.

Oh -- yea, relaxation time my friends.