Cold Vegetarian Spring Rolls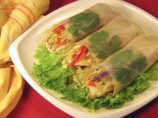 Photo by dianegrapegrower
Prep Time: 20 mins
Total Time: 40 mins
Yield: 16 rolls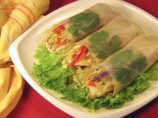 Photo by dianegrapegrower
About This Recipe
"After trying several recipes for vegetarian spring rolls (all good) I came up with this combination that I like best. Although they're at their very best fresh, they also keep and pack well, making this a nice alternative to packing a salad for lunch. I also like to add cooked shrimp or fake crab to these - but then, of course, they aren't vegetarian anymore."
Ingredients
Dressing

1 tablespoon olive oil

1 -2 tablespoon soy sauce

1 teaspoon sesame oil

2 tablespoons rice vinegar

1 -2 teaspoon sugar

1/2 teaspoon garlic and red chile paste

Rolls

2 medium carrots, julienned

4 green onions, julienned

1/2 red bell pepper, julienned

1 medium cucumber, julienned ( hot house or persian)

4 cups Chinese cabbage, slice thinly

5 mushrooms, sliced thinly

1/2 cup cilantro, chopped

16 rice paper, rounds softened

cilantro, garnish
Directions
Combine all dressing ingredients in a large bowl. Add all vegetables and the chopped cilantro. Toss thoroughly. Taste and adjust seasonings as needed. Let set 10-15 minutes for flavors to blend.

Soak one rice paper at a time in water until softened. Place on clean towel, and put 1/4 to 1/3 cup of the vege mixture about 2" from the lower edge of the rice paper.

Fold the lower edge up to cover the filling. Fold in the sides, and roll up gently. A pretty touch is to sprinkle the upper half of the rice paper with the whole cilantro leaves prior to completing the wrap - they show through the rice paper and are very decorative. Place on a plate, seam down, and cover with plastic wrap. Repeat with remaining wrappers and filling.

Serve with a sauce of your choice. Use the same ingredients as the dressing if you like, or experiment with mustard or plum sauce. I like the lighter combinations better with these rolls. Even commercial Chinese salad dressing works in a pinch.