Leek, Tomato, Goat Cheese Pizza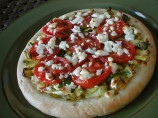 Photo by Ms B.
Prep Time: 0 mins
Total Time: 0 mins
Servings: 1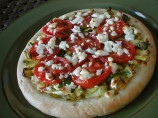 Photo by Ms B.
Ingredients
1 1/2 tablespoons butter

2 medium leeks, thinly sliced

1 tablespoon fresh parsley, minced

3/4 cup tomatoes, chopped

3 ounces montrachet or 3 ounces feta, crumbled

2 tablespoons olive oil
Directions
Melt butter in large skillet over medium-low heat. Add leeks; saute until tender, about 10 minutes.

Season with salt and pepper.

Stir in parsley.

Cool.

Spread leek topping evenly over pizza shell; sprinkle tomatoes over.

Top with cheese. Drizzle 1 tablespoon oil over.

Bake about 10 minutes at 450 F.

Remove from oven and brush crust with olive oil.