Creamy Scottish Oatmeal (With Crock-Pot Instructions)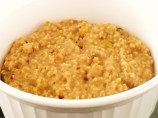 Photo by elastigirl
Prep Time: 5 mins
Total Time: 35 mins
Servings: 4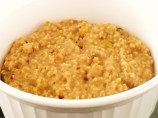 Photo by elastigirl
About This Recipe
"Oh, man. Properly made steel-cut (aka Scottish or Irish) oatmeal will change your opinion about oatmeal. Scottish oatmeal, without the benefit of added fat, comes out creamy and delicious; the trick is the long cooking time. I had mine with milk added and, honestly, it was totally unnecessary. You can also make this in a crockpot; just fix it up before you go to bed and you will wake up to breakfast!"
Ingredients
1 cup steel cut oats

1 cup skim milk

3 cups water

1 teaspoon cinnamon ( also good with pumpkin pie spice)

1/3 cup dark brown sugar

2 tablespoons light maple syrup

1/2 teaspoon vanilla extract

1/2 cup golden raisin (optional)

1/2 cup pecans, chopped (optional)

1/4 teaspoon salt
Directions
If you are making this in a crockpot, the first and only step is to throw everything together in a 2-quart crockpot [increase the water to 3-1/2 cups to allow for evaporation]. Okay, now nighty-nite! We'll see you in the morning!

Otherwise, bring 1 cup milk and 3 cups water to a boil in a 2-quart saucepan.

Stir in oats, spices, and raisins.

Reduce heat to low, cover, and cook for 30 minutes, stirring occasionally.

When cooking is complete, stir in brown sugar, maple syrup, vanilla, pecans, and salt (don't add the salt with the boil; the oats won't cook right).

If you are using a crockpot, you may notice that a crust has formed on the bottom of the crock after cooking. This is perfectly normal. You can eat it if you want to, or you can just leave it. Just make sure to transfer the recipe into a resealable bowl and soak your crockpot right away. This stuff will stick like glue if it dries.

Serve! You can add more fresh or dried fruit, butter, more milk, whathaveyou, but it's awesome all on its own.