Big Boy Original Double Decker Hamburger Classic by Todd Wilbur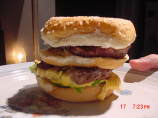 Photo by Chef Mit That's Tim
Prep Time: 7 mins
Total Time: 22 mins
Servings: 1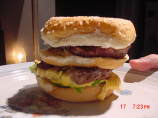 Photo by Chef Mit That's Tim
About This Recipe
"This is from WWW.TOP SECRET RESTAURANT RECIPES.COM, BIG BOY Sandwich origination date 1937."
Ingredients
1/2 lb ground beef

1 1/2 tablespoons mayonnaise

1 teaspoon relish

1 teaspoon tomato sauce

2 hamburger buns with sesame seeds

1/8-1/4 teaspoon salt

1/4 cup shredded lettuce

1 slice American cheese
Directions
Divide the beef into 2 equal patties and press into 2 round patties. Combine mayonnaise,relish and tomato sauce in a small bowl. Cut the top off one of the buns, this is your middle bun.

Toast the side with out the seeds for about 4 minutes.Sprinkle salt on patties, cook the patties until desired doness. Build the burger by spreading half of the sauce on the face of the middle bun and the other half on the bottom bun.

Stack the lettuce on the sauce of the bottom bun, add the cheese on the lettuce.Place 1 patty on the cheese. The middle bun goes on top of the burger, sauce side up. Stack the other patty on top of the middle bun. Next put on the top bun. There you go, it's a BIG BOY.