Cooking Light's Carrot Soufflé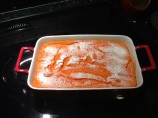 Photo by ATichenor
Prep Time: 10 mins
Total Time: 1 hr 5 mins
Serves: 8, Yield: 8 1/2 cup servings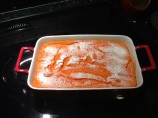 Photo by ATichenor
About This Recipe
"This recipe was featured in an email from the www.myrecipes.com website. The original version of this delicious holiday favorite was weighed down by a stick of butter and a cup of sugar. Our lightened version eliminates 8.5g fat and 102 calories by accenting the natural sweetness of carrots, and adding a punch with the addition of sour cream. Because this dish contains no beaten egg whites, it is not a true soufflé the name is derived from its light airy texture. Similar in color and flavor to sweet potato casserole, it pairs well with ham or turkey."
Ingredients
7 cups carrots, chopped ( about 2 pounds)

2/3 cup granulated sugar

1/4 cup nonfat sour cream

3 tablespoons all-purpose flour

2 tablespoons butter, melted

1 teaspoon baking powder

1 teaspoon vanilla extract

1/4 teaspoon salt

3 large eggs, lightly beaten

1 teaspoon powdered sugar
Directions
Preheat oven to 350°.

Cook carrots in boiling water 15 minutes or until very tender; drain. Place carrots in a food processor; process until smooth. Add granulated sugar and next 7 ingredients (granulated sugar through eggs); pulse to combine.

Spoon mixture into a 2-quart baking dish coated with cooking spray. Bake for 40 minutes or until puffed and set. Sprinkle with powdered sugar.