Fabulous Dairy and Soy Free Green Bean Casserole!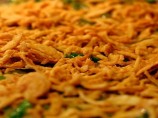 Photo by alily.17
Prep Time: 20 mins
Total Time: 1 hr 20 mins
Servings: 4-6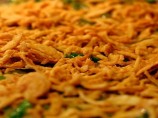 Photo by alily.17
About This Recipe
"I have been really allergic to both milk and soy for years, as well as lactose intolerant, so I've been missing out on this holiday favorite for quite some time. Inspired by the recipe "I can't believe there's no lactose in this green bean casserole!" I made a version that is a little simpler and took it a step further by eliminating soy. My family thought it was even better than the traditional recipe! Additional allergy/diet options: To make this recipe totally vegan/free of lactose, use margarine instead of butter. To make it gluten free, use gluten free all-purpose flour mix, available in most grocery store natural or allergy food sections. Caramelize some onions and put them on top instead of the french-fried variety. This is also a delicious option for those who want to avoid egg. To make sure this dish is soy free, be extra careful when you check the labels for french fried onions, as some brands use soy protein or soy flour in their batter. Enjoy!"
Ingredients
3 tablespoons olive oil

8 tablespoons butter

10 button mushrooms

1/2 red onion

3 tablespoons flour

1 teaspoon pepper

1 teaspoon salt

1 1/2 cups chicken broth or 1 1/2 cups vegetable broth

16 ounces frozen green beans

6 ounces French-fried onions
Directions
Thaw and drain green beans. Set aside.

Add olive oil to a medium saucepan or small pot. Add 4 tablespoons butter, and heat on medium-high until melted.

Finely chop mushrooms and onions and add to the butter and olive oil mixture. Heat until mushrooms darken and shrink, and onions become soft and translucent.

Remove from heat. Add three tablespoons of flour and mix together.

Add 1 1/2 cups of broth, salt, pepper (and any other spices you'd like), and heat on medium-high again until somewhat reduced. Add additional flour for a thicker sauce/soup.

Pour over green beans and heat in the oven at 350°F for 30 minutes.

Sprinkle french fried onions on top and bake an additional 5-10 minutes.