Butternut Squash and Chocolate Chip Muffins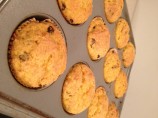 Photo by hollyberry
Prep Time: 10 mins
Total Time: 35 mins
Yield: 24 muffins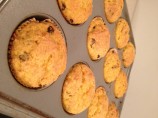 Photo by hollyberry
About This Recipe
"These are the fluffiest most delicious cake-like muffins! It's so rewarding to start with raw squash and end up with such a sumptuous treat. My children absolutely devour these - a batch will disappear in a day. A must try!"
Ingredients
2 1/2 cups butternut squash

1/2 cup shortening

1/4 cup margarine

1 cup sugar

1/2 cup brown sugar

2 eggs

2 teaspoons vanilla

3 cups flour

4 teaspoons baking powder

2 teaspoons baking soda

1 teaspoon salt

1 cup chocolate chips (optional)
Directions
Turn oven on to 400 degrees F. Cut a butternut squash in half and scoop out the seeds. Place cut side down on parchment paper over a cookie sheet and roast for 45 minutes. When cool enough to handle, scoop the squash away from the peel. Mash. Use 2 1/2 cups. This time is not included in the prep time.

Preheat oven to 325 degrees F. Using a stand mixer, blend thoroughly the squash, shortening, margarine, sugar, brown sugar, eggs and vanilla.

Add in the flour, baking powder, baking soda and salt. Stir just until blended. Remove bowl from mixer and fold in the chocolate chips (if desired).

Line 24 muffin cups. Scoop the batter into the cups.

Bake for 20-25 minutes, or until a tester comes out clean.