Cinnamon Rolls (Raw Foods)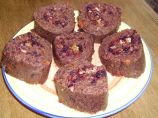 Photo by Mia in Germany
Prep Time: 10 mins
Total Time: 1 hr 10 mins
Yield: 8 1-inch rolls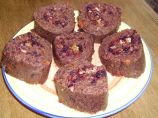 Photo by Mia in Germany
About This Recipe
"I found this in the newsletter from my local health food store. They got it from goneraw.com and say it's good with Creamy Cashew Icing (Raw Foods) . They can be eaten right out of the refrigerator or warmed up in a dehydrator. The newsletter editor/raw foodist tops them with raw almond butter mixed with agave, vanilla, and sea salt or the aforementioned cashew icing. The "cooking time" is an estimate of the chilling time."
Ingredients
1 1/4 cups almond meal

1 1/4 cups flax seeds, ground

1 dash cayenne pepper

1 1/2 tablespoons cinnamon

1 pinch sea salt

1 cup dates

1/4 cup water

1 teaspoon vanilla

1/8 cup olive oil

1/8 cup agave nectar

1/4 cup raisins, plus a little extra raisins

1/4 cup nuts, chopped
Directions
Combine almond meal, flaxseed, cayenne, 1/2 tablespoon cinnamon, and pinch salt in a bowl and set aside.

In food processor or blender, process dates, water, and vanilla into a paste.

Put half the date paste, the olive oil, and the agave nectar into the dry ingredients and mix with hands until a dough is formed. You might need to add a little water or agave if it's too dry but be careful not to add too much.

Spread dough on a piece of parchment paper and shape into a 1/4-inch thick square.

Add 1/4 cup raisins and 1 tablespoon of cinnamon to the date paste remaining in the blender. Process until smooth.

Spread a thin layer of this mixture onto the dough square, covering the whole surface, and sprinkle with the extra raisins and the chopped walnuts.

Using the parchment paper to hold everything together and carefully roll the square tightly into a log.

Chill in the refrigerator and slice into 1-inch thick rounds.