Rockin' Spinach Chicken Ramen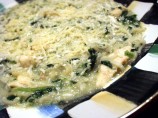 Photo by FLKeysJen
Prep Time: 4 mins
Total Time: 8 mins
Servings: 4-6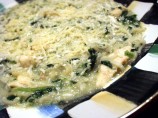 Photo by FLKeysJen
About This Recipe
"Ramen noodle pasta with spinach and chicken is easy to make, inexpensive, and a lot of fun! You will enjoy the taste of the Ramen Noodles just like you did in college but with a lot more flavor of today."
Ingredients
1/2 lb chicken breast

white pepper ( five shakes)

1/2 teaspoon olive oil

2 garlic cloves, minced

3 (3 ounce) packages chicken-flavored ramen noodles

3 ounces frozen spinach

fresh ground black pepper

2 eggs

4 tablespoons parmesan cheese ( add per taste)
Directions
Cut chicken breast julienne style or cubed, add to sauce pan, saute in olive oil, white pepper and garlic cloves. Cook for only a couple of minutes until you see the chicken turn very light brown.

Pour six cups of water into a medium pot, boil, add frozen spinach, 3 packs of Ramen Noodles, and Ramen Chicken spice, add 3 to 4 rotations of crushed black pepper, boil until noodles are soft (2 to 3 minutes max).

Crack each egg and stir rapidly in the middle of the pasta mixture, one by one.

Ladle into serving bowls and sprinkle generously with parmesan cheese. Enjoy with fork and spoon!