Pork Loin Chops With Simple Savory Sauce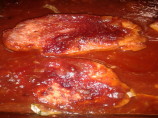 Photo by MollyLin
Prep Time: 10 mins
Total Time: 30 mins
Servings: 4-6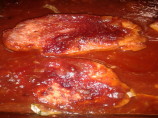 Photo by MollyLin
About This Recipe
"I threw this together in less than 30 minutes. The outcome was raves all around the table. Always trying to come up with ways to cook chicken or pork, I finally made a sauce that my family said was "off the hook". This dish was so easy to make and was well received with my Fluffy Rice Pilaf."
Ingredients
6 boneless sirloin pork chops ( 1/2 in thick)

16 ounces jellied cranberry sauce

1 (12 ounce) bottles chili sauce

3/4 cup light brown sugar, packed

1/2 teaspoon new mexico chile powder

1/2 teaspoon cumin

1/4 teaspoon cayenne pepper

1/4 teaspoon garlic salt

1/4 teaspoon onion salt

1/3 cup flour

1/2 teaspoon salt

1/2 teaspoon black pepper

3 tablespoons olive oil
Directions
In a 4 cup measuring cup, I combined the cranberry sauce, chili sauce, brown sugar, chili powder, garlic and onion salt with the cumin and cayenne. Mix well to incorporate the sugar.

In a large reseable bag, combine flour, salt and pepper. Add pork chops one at a time and shake to coat. Set on plate until all have been coated and can be cooked together.

In a large skillet cook pork in olive oil over medium high heat 4-5 minutes on each side or until juices run clear.

Pour sauce mixture over the pork and cover once it comes to a boil. Reduce heat, simmer 10 minutes.

Served with Rice Pilaf and a crisp green salad. YUM!

Hope you enjoy!