Black Bean, Corn, and Cheddar Fritters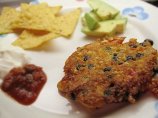 Photo by Striving Bean
Prep Time: 15 mins
Total Time: 40 mins
Yield: 15 fritters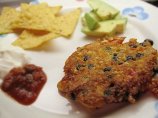 Photo by Striving Bean
About This Recipe
"Best served hot and crispy, right out of the pan, these fritters make a lovely light lunch served with a green salad, or a more hearty meal when served with Harvest Mexican Squash Casserole. They can also be a nice appetizer! Serve the fritters with sour cream and/or salsa on the side! I measured the oil after frying, so that the nutritional information would accurately reflect the oil used - you should start with 1/2 cup when frying, though!"
Ingredients
1/2 cup yellow cornmeal

1/2 cup unbleached white flour

1/2 teaspoon baking powder

1/2 teaspoon salt

1 teaspoon chili powder

1/2 teaspoon ground cumin

1 dash cayenne

1/2 cup 1% low-fat milk

1 egg yolk ( save the white!)

1 cup cooked black beans

1 cup grated sharp cheddar cheese

1/2 cup corn kernel ( fresh or frozen)

2 tablespoons minced fresh cilantro

3/4 cup chopped red bell pepper ( 1 medium pepper)

2 tablespoons diced roasted green chili peppers ( canned or fresh)

2 egg whites ( that includes the one from the egg yolk earlier)

1/4 cup canola oil ( start frying with 1/2 cup - 1/4 cup is what is absorbed)
Directions
Sift together the cornmeal, flour, baking powder, salt, chili powder, cumin, and cayenne in a medium-sized bowl.

Beat the milk with the egg yolk, and add it to the dry ingredients, mixing well.

Stir in the beans, cheese, corn, cilantro, red pepper, and green chilies.

In another bowl, beat the egg whites with an electric mixer until stiff. Gently fold them into the batter.

Heat 1/2 cup oil in a 10-inch iron skillet over medium-high heat. (Test the heat by dropping a bit of batter into the oil; it should immediately sizzle and rise to the top.).

Spoon in about 1/4 cup of batter for each fritter, making three or four at a time. Fry until golden brown on one side, 3 to 5 minutes. Turn and fry until golden brown on the other side, and drain on paper towels. Fry the rest of the batter in batches.

Serve immediately with sour cream and salsa on the side.