Dessert Couscous With Nuts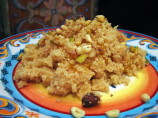 Photo by Annacia
Prep Time: 10 mins
Total Time: 25 mins
Servings: 4-6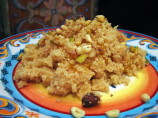 Photo by Annacia
About This Recipe
"Sweet couscous is served as the final savory dish of a banquet. More expensive nuts, such as pistachios and pine nuts, are often used along with traditional almonds."
Ingredients
1/2 cup combined nuts ( pistachio nuts, pine nuts and blanched almonds)

1/4 cup dried apricot, chopped

1 1/3 cups instant couscous, uncooked

1/4 cup caster sugar ( super fine sugar)

1/2 teaspoon cinnamon

1 cup boiling water

1/2 cup hot milk

2 tablespoons sweet unsalted butter, softened

2 tablespoons confectioners' sugar

1/2 teaspoon cinnamon

of fresh mint, to garnish (optional)
Directions
Preheat oven to 325 degrees. Spread the nuts on a baking tray and bake for about 5 minutes (until slightly golden).

Allow to cool, then roughly chop and place in a bowl. Mix the chopped apricots in with the nuts.

Put the couscous, cinnamon, and caster sugar in a large bowl then pour in the water & milk, stir well. Add the butter and a pinch of salt, stir until the butter melts.

Cover with a towel and set aside for 10 minutes. Fluff the grains with a fork then stir in half the nut & fruit mixture.

To Serve: Pile the warm couscous in the center of a platter. Arrange the remaining nut mixture over the couscous & arrange fresh mint along the outside.

To Garnish: Combine the confectioners sugar and the cinnamon in a small bowl and serve separately for sprinkling.