Kristi's Gluten Free Fruit Cake Cakelets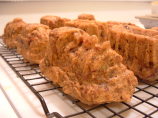 Photo by Kristi Waterworth
Prep Time: 10 mins
Total Time: 55 mins
Serves: 9, Yield: 9 cakelets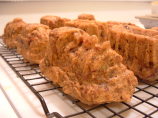 Photo by Kristi Waterworth
About This Recipe
"See Title :) My friends and family can't tell it from the real deal. Thanks to Jubes, Mia in Germany and others who have helped to give me ideas for this wonderful Christmas tradition. :) Prep time doesn't include time to soak the fruit, so plan ahead! I'm still having problems posting photos, so please see: http://crystalstair.wordpress.com/2008/11/09/recipe-gluten-free-fruitcake/ for photo(s). :)"
Ingredients
1 1/2 ounces sorghum flour

1 ounce almond meal

1 1/2 ounces potato starch

6 1/4 ounces raw sugar

1/2 teaspoon baking powder

1/2 teaspoon salt

1 teaspoon xanthan gum

3 jumbo eggs

1/4 cup applesauce

1/4 cup molasses

1 1/2 teaspoons vanilla

1/2 teaspoon lemon extract

1/2 teaspoon allspice

1/2 teaspoon nutmeg

1/4 teaspoon cardamom

1/2 teaspoon cinnamon

1/4 teaspoon fresh coarse ground black pepper

1/4 teaspoon Mexican chili powder

8 ounces nuts, bits

2 cups dried fruit

2 cinnamon sticks, 5 inches and broken in two

1/4 cup dried lemon peel

1/4 cup dried orange peel

apple juice ( to cover)
Directions
The night before you want to bake, chop your dried fruit coarsely and put into a dish. Add lemon and orange peel. Put enough apple juice in said dish to cover everything. Break your cinnamon stick in two and toss it in to the juice/fruit mix. Cover and let stand up to 24 hours.

In the bowl of your stand mixer, put all the dry ingredients and the sugar (except the spices). Turn mixer on low to fluff the flours. Add eggs, one at a time, and mix until fully integrated. Add applesauce and molasses. Mix. Add your spices and extracts. Mix. This would be where you should taste it for spice adjustment.

Preheat your oven to 300°F Using a tablespoon or other smallish scoop, fish out 12 ounces of rehydrated fruit (some juice is ok, too), stirring as you add it. Add nuts and stir. If you've added so much stuff you don't think it will all mix, you've got it right! :) Make sure you stir this part by hand or you'll break your fruits and nuts up and your fruitcake will be sorta -- well, sorta pathetic.

Allow batter to stand 10-15 minutes to fully hydrate. Spoon into square molds that are approximately 2 1/2 x 1 1/2 x 1 and bake for 45 minutes. Allow a little room for rising. It should fill 9-10 square cakelet molds.

Turn cakelets out onto a cooling rack to cool. When cooled completely, wrap in cellophane and allow to mellow for at least 24 hours in a cool, dry and dark place. :) Enjoy! :).