Hearty Lentil Soup With Spinach - Vegetarian Version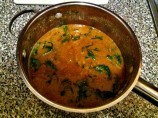 Photo by elimaddy
Prep Time: 1 hr
Total Time: 1 hr 15 mins
Serves: 8-12, Yield: 3-4 Quarts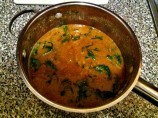 Photo by elimaddy
About This Recipe
"I usually make this with bacon, but I can't eat meat on my current restricted diet, so I've tossed that smoky slab and added some other stuff! I've also almost doubled the original amounts of original recipe - I can't make small batches of soup! I pack it up in plastic containers and take them to work. *Please note that preparation time may vary. I'm a slow chopper and I accounted for that in the given time below!"
Ingredients
1/4 cup olive oil ( or thereabouts)

1 1/2 large onions, chopped fine

4 medium carrots, peeled and chopped medium

4 celery ribs, chopped medium

6 garlic cloves

2 (14 1/2 ounce) cans diced tomatoes

1 large bay leaf

2 teaspoons minced fresh thyme leaves

2 cups lentils

1/2 teaspoon salt

ground black pepper

8 cups vegetable broth

3 cups water

8 ounces spinach, baby whole or 8 ounces regular spinach, chopped
Directions
Heat olive oil at medium-high heat.

Add onions, carrots and celery; cook, stirring occasionally, until vegetables begin to soften (4-8 minutes).

Add garlic and cook until fragrant (30 seconds).

Stir in tomatoes, bay leaf and thyme; cook until fragrant (30 seconds).

Stir in lentils, salt and pepper to taste.

Cover, reduce heat to medium-low and cook until vegetables are softened and lentils have darkened *7-10 minutes).

Uncover, add vegetable broth and water.

Bring to a boil, cover partially, and reduce heat to low.

Simmer until lentils are tender but not mushy (30-35 minutes).

Discard bay leaf.

Puree 3 cups soup in blender until smooth, then return puree to pot.

Stir in spinach until wilted.

Serve! (or place in plastic containers for work!).