Company's Coming Stuffed Winter Squash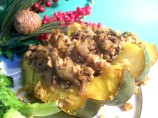 Photo by Sharon123
Prep Time: 45 mins
Total Time: 2 hrs 15 mins
Servings: 8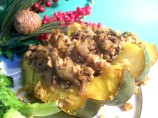 Photo by Sharon123
About This Recipe
"A savory wild rice and apple stuffing fills these golden squash rings. Delicata are oblong green and yellow striped squash; sliced crosswise they make beautiful scalloped rings, or use any other winter squash. You can also make the wild rice stuffing without the squash for a side dish. Serve with Shiitake Mushroom Gravy. Adapted from Delicious Living magazine."
Ingredients
4 small delicata squash (about 4-inch diameter) or 4 small butternut squash (about 4-inch diameter) or 4 small banana squash (about 4-inch diameter) or 4 small acorn squash (about 4-inch diameter) or 4 small buttercup squash ( about 4-inch diameter)

2 cups brown basmati rice

1 cup wild rice

6 cups water

3/4 teaspoon sea salt

2 tablespoons olive oil

2 teaspoons cumin

1 teaspoon paprika

1 teaspoon dried thyme

1 teaspoon dried oregano

1 pinch cayenne

2 large yellow onions, diced

4 garlic cloves, minced

3 stalks celery, thinly sliced

1/2 red bell pepper, diced

1/2 yellow bell pepper, diced

1/2 bunch parsley, chopped ( 1 cup)

1 cup currants or 1 cup raisins

1 cup apple, diced

3 tablespoons fresh rosemary, chopped or 1 tablespoon dried rosemary

3 tablespoons fresh sage, chopped or 1 tablespoon dried sage

1 1/2 cups pecans

2 tablespoons tamari

2 tablespoons umeboshi vinegar or 2 tablespoons use rice vinegar

1 tablespoon balsamic vinegar

sea salt

fresh ground black pepper

parsley ( to garnish)
Directions
. Wash squash and trim ends. Cut squash crosswise into halves and scoop seeds out. Set aside.

Rinse basmati and wild rice in a strainer under cold running water. Heat 1 tablespoon olive oil in a large saucepan; add rice and cook 5 minutes. Add water to rice and bring to a boil. Reduce flame and cook covered 40 minutes or until water is absorbed and steam holes form in rice.

Heat 2 tablespoons olive oil in a large skillet. Add cumin, paprika, thyme, oregano and cayenne and sauté for two minutes. Add onions, garlic, celery, peppers and parsley. Cook 20 minutes. Stir in raisins, apples, fresh rosemary and sage. Cook 10 minutes more.

Preheat oven to 375°F . Spread pecans on a baking sheet. Place baking sheet in oven and roast pecans 8 to 10 minutes until theybegin to release their aroma. Be careful not to burn them. Remove pecans from the oven and combine them with the cooked rice,vegetables, tamari, umeboshi and balsamic vinegar in a large mixing bowl. Add salt and pepper to taste.

Stuff rice mixture firmly into squash halves. Place squash in a roasting pan with 1/2 cup water. Cover with foil and bake 45 minutes or until squash is easily pierced with a fork. To serve, slice squash into 1-inch rings and garnish with Italian parsley.

Note: Any leftover stuffing can be baked for 30 minutes at 375°F in a lightly oiled, covered 2-quart casserole.