Goes With Everything Dipping Sauce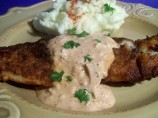 Photo by Sharon123
Prep Time: 10 mins
Total Time: 10 mins
Yield: 2 cups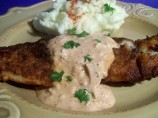 Photo by Sharon123
About This Recipe
"An all purpose sauce to serve with seafood, baked potatoes and a green salad for dinner, or use it as a party dip with shelled shrimp, lobster or crabmeat, fried fish sticks, or fresh cut-up vegetables or baked potato wedges. Adjust the seasonings to taste."
Ingredients
1 small onion, chopped

3 garlic cloves, medium-size, finely chopped or 1 1/2 teaspoons garlic, minced

1 cup mayonnaise or 1 cup Miracle Whip

1/2 cup vegetable oil

1/4 cup chili sauce ( Heinz)

3 tablespoons lemon juice

1 tablespoon prepared mustard

1 tablespoon Worcestershire sauce

1 tablespoon water

1 teaspoon paprika

1 teaspoon fresh ground pepper

1/2 teaspoon salt ( to taste)
Directions
In a food processor or blender, finely chop the onion and garlic together.

Add the rest of the ingredients; mayonnaise, vegetable oil, Chili sauce, lemon juice, prepared mustard, Worcestershire sauce, water, paprika, pepper, and salt.

Puree until smooth.

Chill in a covered bowl.