Healthy Blueberry Peach Oatmeal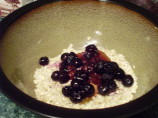 Photo by I Can't Believe It's Healthy
Prep Time: 20 mins
Total Time: 20 mins
Servings: 1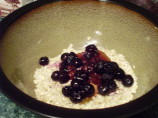 Photo by I Can't Believe It's Healthy
About This Recipe
"I whipped this up the other day and was shocked by the delicious results! cost effective, healthy, and non-seasonal! what more could you want?"
Ingredients
1/4 cup oats

1/2 cup skim milk

1 -2 tablespoon peach jam

3 tablespoons frozen blueberries

1/8 teaspoon cinnamon

1/2-1 teaspoon margarine

1/2 teaspoon ground flax seeds

sugar (optional)

additional skim milk, to serve with
Directions
prepare your oatmeal as you would normally. I microwave mine.

put your blueberries in the microwave for about 40 seconds or until thawed and sitting in own juice (do not drain juice!).

Mix all ingredients together in a bowl (including blueberries AND juice) and enjoy!