World's Best Chocolate Chip Cookies (By Dorie Greenspan)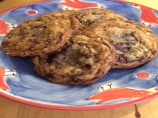 Photo by ctay122@yahoo.com
Prep Time: 10 mins
Total Time: 20 mins
Yield: 45 cookies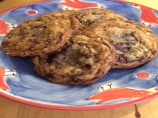 Photo by ctay122@yahoo.com
About This Recipe
"This recipe makes a perfect chocolate chip cookie that is both chewy and crispy. It is from Dorie Greenspan's excellent cookbook, "BAKING: From My Home to Yours". Including nuts is highly recommended. Some variations: for chocolate chocolate chip cookies, substitute 3/4 cup of flour for 3/4 cup unsweetened cocoa powder; for espresso chocolate chip cookies, add 1 1/2 tablespoons espresso powder after the vanilla extract; for a coconut version, add 1 1/2 cups sweetened (toasted or untoasted) shredded coconut when adding the chocolate chips; and for peanut butter chocolate chip cookies, substitute 1/2 cup of peanut butter for 1/2 a stick of butter and beat them together before adding sugar (and use peanuts). Enjoy! Note: The dough can be covered and refrigerated for up to 3 days, or frozen. If you'd like, rounded tablespoonfuls of dough, ready for baking. Freeze the mounds on a lined baking sheet, then bag them when they're solid. There's no need to defrost the dough before baking-just add another minute or two to the baking time."
Ingredients
2 cups all-purpose flour

1 teaspoon salt

3/4 teaspoon baking soda

1 cup unsalted butter, at room temperature

1 cup sugar

2/3 cup packed light brown sugar

2 teaspoons pure vanilla extract

2 large eggs

12 ounces bittersweet chocolate, chopped into chips or 2 cups store-bought chocolate chips or 2 cups semisweet chocolate chunks

1 cup finely chopped walnuts (optional) or 1 cup pecans (optional)
Directions
Center a rack in the oven and preheat the oven to 375 degrees F. Line two baking sheets with parchment or silicone mats.

Whisk together the flour, salt, and baking soda.

Working with a stand mixer, preferably fitted with the paddle attachment, or with a hand mixer in a large bowl, beat the butter at medium speed for about 1 minute, until smooth. Add the sugars and beat for another 2 minutes or so, until well-blended. Beat in the vanilla. Add the eggs one at a time, beating for 1 minute after each egg goes inches Reduce the mixer speed to low and add the dry ingredients in 3 portions, mixing only until each addition is incorporated. On low speed, or by hand with a rubber spatula, mix in the chocolate and nuts.

Spoon the dough by slightly rounded tablespoonfuls onto the baking sheets, leaving about 2 inches between spoonfuls.

Bake the cookies- one sheet at a time and rotating the sheet at the midway point- for 10-12 minutes, or until they are brown at the edges and golden in the center; they may still be a little soft in the middle, and that's just fine. Pull the sheet from the oven and allow the cookies to rest for 1 minute, then carefully, using a wide metal spatula, transfer them to racks to cool to room temperature.

Repeat with the remainder of the dough, cooling the baking sheets between batches.