Cream Cheese Pumpkin Bread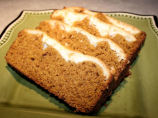 Photo by **Tinkerbell**
Prep Time: 10 mins
Total Time: 1 hr 5 mins
Yield: 2 loaves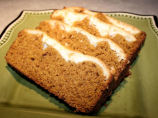 Photo by **Tinkerbell**
About This Recipe
"This is a yummy, moist, and mildly spiced bread. I use homemade pumpkin puree which is similar to the canned. I grind my own whole wheat flour so it is very fine."
Ingredients
1/2 cup brown sugar

1 large egg

1 cup pumpkin puree

1/2 cup butter, melted

1/3 cup brandy ( fruit brandy is good-like apricot)

1 cup all-purpose flour

3/4 cup whole wheat flour

3/4 cup sugar

1 teaspoon baking soda

1 teaspoon cinnamon

1/4 teaspoon nutmeg

1/4 teaspoon allspice

1/2 teaspoon salt

Filling
Directions
Blend the brown sugar and egg until smooth and light. Add the pumpkin, butter and brandy. Add the remaining dry ingredients all at once and mix just until well moistened.

Spread into 2 greased and floured loaf pans or 4 mini loaf pans.

Make the filling: Blend the cream cheese, egg and sugar, beating until fluffy. Spread the filling over the pumpkin batter and swirl several times with a knife.

Bake at 350 degrees for 50-55 minutes for the large loaves or about 35 minutes for the mini loaves. Cool 10 minutes in the pans before turing out on wire racks. Let cool completely before slicing.