Pasta E Fagioli (By Giada De Laurentiis)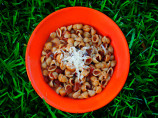 Photo by ArtofAimee
Prep Time: 10 mins
Total Time: 40 mins
Servings: 6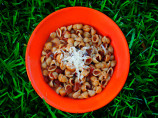 Photo by ArtofAimee
About This Recipe
"This is a great soup to warm your stomach on a cold winter night. So simple and so flavorful! I found this on Food Network, but tweaked it to be a little easier."
Ingredients
2 -3 pinches ground thyme ( or a couple of shakes out of the bottle)

1 pinch rosemary ( or a couple of shakes out the bottle)

2 bay leaves

1 tablespoon olive oil

1 tablespoon butter

1 cup chopped onion

3 ounces bacon, chopped ( or pancetta)

2 minced garlic cloves

5 3/4 cups low sodium chicken broth

1 (14 1/2 ounce) cans red kidney beans

1 (14 1/2 ounce) cans pinto beans

3/4 cup small shell pasta, I used orecchiette pasta

fresh ground black pepper

1 pinch red pepper flakes

1/3 cup freshly grated parmesan cheese

1 tablespoon extra virgin olive oil

you can add pieces sausage or ham, which adds nicely to the flavor
Directions
Heat 1 tablespoon olive oil and butter in a heavy large saucepan over medium heat. Add the onion, bacon, and garlic and saute until the onion is tender, about 3 minutes.

Add the broth, beans, and herbs (thyme, bay leaves, rosemary) . Cover and bring to a boil over high heat, then decrease the heat to medium and simmer until the vegetables are very tender, about 10 minutes.

Puree 1 cup of the bean mixture in a blender until smooth*. Before putting the puree back into the soup, add the macaroni and boil with the lid on until it is tender but still firm to the bite, about 8 minutes. You can also add sausage or ham at this time as well.

Return the puree to the remaining soup in the saucepan and stir well. Season the soup with ground black pepper and red pepper flakes.

Ladle the soup into bowls. Sprinkle with some Parmesan and drizzle with extra-virgin olive oil just before serving.

*When blending hot liquids: Remove liquid from the heat and allow to cool for at least 5 minutes. Transfer liquid to a blender or food processor and fill it no more than halfway. If using a blender, release one corner of the lid. This prevents the vacuum effect that creates heat explosions. Place a towel over the top of the machine, pulse a few times then process on high speed until smooth.