Acadia's Eggplant Casserole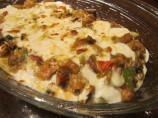 Photo by Rita~
Prep Time: 30 mins
Total Time: 1 hr
Servings: 6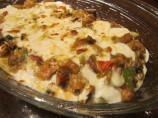 Photo by Rita~
About This Recipe
"Yet another recipe for eggplant! LOL! I have seven eggplants on my eggplant and about 6 purple flowers. How many different ways can you serve up eggplant? Eggplant ice cream anyone? LOL!"
Ingredients
1 small eggplant ( chopped)

1 yellow bell pepper ( chopped)

1 large vidalia onion ( or any sweet onion)

2 tablespoons margarine

4 ounces low-fat cheddar cheese ( shredded)

4 ounces low-fat monterey jack cheese ( shredded)

Pam cooking spray

1/8 teaspoon kosher salt
Directions
Pre-Heat oven at 350 degrees F.

Chop onion into 1/4" pieces.

In skillet add 1 tablespoon of margarine.

On medium-low heat saute onion until translucent (not brown).

Stir frequently.

Add bell pepper and eggplant pieces with onion.

Sprinkle salt over mixture.

Saute until tender.

Spray PAM in 2-quart baking dish.

Add eggplant, pepper and onion mixture into baking dish.

Mix cheeses together.

Sprinkle cheese mixture on top of eggplant mixture.

Bake in oven for 15-minutes or until cheese has melted.

Serve and enjoy.