Crock Pot Recipe Black Beans and Corn Etc.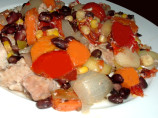 Photo by Bergy
Prep Time: 15 mins
Total Time: 6 hrs 15 mins
Servings: 4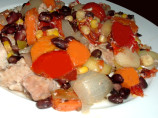 Photo by Bergy
About This Recipe
"The chicken comes out lovely & tender, the bone in adds flavor. You may substitute Pork Country style ribs for the chicken. If you wish you may brown the thighs before adding to the pot. I say the chili flakes are optional but taste the mixture after 1 hour and then add as much chili flakes to meet the heat that you like. I like close to 2 tsps but it is up to you."
Ingredients
1 (19 ounce) cans black beans, rinsed

1 (227 ml) cans sliced water chestnuts

1 (7 ounce) cans corn kernels

3 leeks, cleaned, white part only, sliced

3/4 cup onion, sweet, chopped

6 garlic cloves, crushed

2 cups carrots, sliced

1 (10 ounce) cans Rotel tomatoes & chilies

1 jalapeno pepper, seeds & membrane removed, finely chopped

8 skinless chicken thighs, bone in

1 teaspoon oregano, dried

1 1/2 teaspoons chili flakes (optional)
Directions
Layer half the black beans, water chestnuts, corn, leeks,.

onions, carrots, jalapeno, garlic & tomatoes.

Sprinkle with the Oregano & chili flakes.

Place the thighs on top & repeat layers ending with the last.

half of the tomatoes on top.

Turn Crock Pot to low and cook for 6 hours.

That's all there is to it Hope you enjoy it!