Craze-E Crock-Pot Burgers & Cheesy Pasta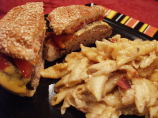 Photo by FLKeysJen
Prep Time: 15 mins
Total Time: 3 hrs 30 mins
Serves: 12, Yield: 3 Burgers & 12 Pasta Servings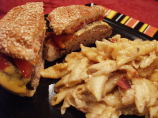 Photo by FLKeysJen
About This Recipe
"I wanted a one dish recipe that utilized my crock-pot, but was not a casserole or mixture of items. This recipe accomplished the feat making delicious turkey burgers and a side of cheesy farmhouse pasta! Best of all, it makes dinner for 3 and then lunch for the next day or even a side dish for dinner the next night! Perfect if you have some place to be for a few hours and will be returning home at dinner time. No scrambling on school or work nights! I created this recipe for the "Category Craze-E Contest" in the Contest and Events Forum."
Ingredients
2 slices bacon, chopped

1 cup onion, coarsely chopped

2 cups fresh button mushrooms, sliced

1 tablespoon garlic, minced

1 (16 ounce) boxes penne pasta

1 (10 ounce) cans Rotel tomatoes & chilies

1 (5 ounce) cans evaporated milk

2 cups milk

1 (8 ounce) packages shredded cheddar cheese

2 tablespoons flour

1 1/4 lbs ground turkey

McCormick's Montreal Brand steak seasoning

For Burgers

4 hamburger buns

cheese, slices (optional)

tomatoes, slices (optional)

hamburger dills, slices (optional)

bacon, slices (optional)

onion, slices (optional)

lettuce (optional)

ketchup (optional)

mustard (optional)

mayonnaise (optional)
Directions
Cook bacon over medium high heat until brown. Set aside and wipe pan with paper towel, leaving a coating of grease.

Over medium high heat, saute onions for 4 minutes. Add mushrooms and continue to saute for 3 minutes. Add garlic and saute for 1 minute.

While the vegetables are cooking, make two to three even turkey burger patties. Sprinkle both sides with Montreal Seasoning (or your family's favorite seasoning) and set aside.

Add bacon and contents of pan to slow cooker along with remaining ingredients (except turkey burgers.).

Stir to combine and top with turkey burgers.

Cover and cook on low for 3-4 hours or before pasta darkens around rim.

Carefully remove burgers. Only stir the pasta if you want to incorporate the turkey juices. .

Build your family's favorite burger and place on plate with a heaping serving of the cheesy farmhouse pasta. You can sprinkle with ground pepper.

Enjoy!