Raw Flax-Tomato Crackers (Dehydrated)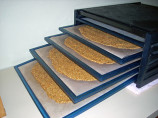 Photo by Chef Joey Z.
Prep Time: 25 mins
Total Time: 8 hrs 25 mins
Servings: 24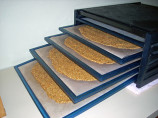 Photo by Chef Joey Z.
About This Recipe
"I bought a bag of raw crackers at my local health food store and thought, "I can make these" so I gave them a try and I think the finished product was pretty good. At least my DH thought they were."
Ingredients
1 cup golden flax seed ( soaked for 2 hrs. in filtered water)

8 sun-dried tomatoes, pieces ( soaked for about 1/2 hour)

1/3 bell pepper

1 tablespoon olive oil

1 teaspoon sea salt

2 paste tomatoes ( raw and chopped)

1 medium red onion ( chopped)

1 garlic clove ( put through a garlic press)

1/4 cup herbs ( your choice)

salt and pepper

paprika or cayenne, to taste
Directions
Put all the ingredients except the soaked flax into a food processor.

Process until well combined.

Removed the mixture into a bowl and using a small hand mixer on low mix the flax seeds into the tomato mixture. You want the flax seeds in tact.

Spoon the mixture onto the teflex sheets of your dehydrator and using an off set spatula spread the mixture about 1/8 inch thick to within 1 inch of the edges. You don't want it too thick or thin. Experiment with this part to your likeing. I made it too thin at first and the crackers were very brittle and hard to remove from the teflex sheet. Do this until you use up the mixture.

Dehydrate for at least 8-12 hours at about 110'F.

Its very dry where I live so 8 hours was enough. You should flip these over at some point as well and dry for another 8-12 hours if necessary.

As you make these again and again you can change the herbs for a different taste.

These would be delicious with a slice of tomato or avocado. You could also crumble them up for a nice topping over a green salad.

Bon Appetit!