Kroppkakor - Swedish Potato Dumplings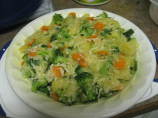 Photo by Maureen Fipke
Prep Time: 40 mins
Total Time: 55 mins
Serves: 10-12, Yield: 24.0 dumplings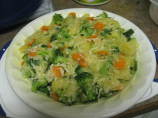 Photo by Maureen Fipke
About This Recipe
"We grew up eatting the potato dumplings (palt) which are from northern Sweden and use raw potato in the dough. But I prefer this dumpling, that is more common in the southern Sweden. These dumplings are heavy winter time comfort food. The filling is usually cooked meatballs. But any kind of cooked meat will work. ( I like pork best). Sometimes, if the dough is too dry, I add an additional egg yolk or whole egg. We always ate these with lots of melted butter and cranberry or lingon jam, and a cold glass of milk. Leftovers taste really good cut into pieces and fried up crispy for breakfast the next day. This recipe is from an old Swedish cookbook of my mother's...the title is missing!"
Ingredients
2 lbs potatoes, about 6 medium

1 egg yolk, slightly beaten

1 1/2 teaspoons salt

3/4 lb salt pork or 3/4 lb bacon or 3/4 lb ham, cut into 1 inch cubes

1 medium onion, chopped

2 -3 cups plain flour

2 quarts water

2 teaspoons salt

melted butter, to serve

lingon jam, to serve
Directions
Wash, peel and cut up potaotoes. Cook about 20 minutes in enough salted water to cover the potatoes. Potaotes are done when they can be pierced with a fork. Drain.

Mash or rice potatoes well. Whip in the egg yolk and 1 1/2 tsp salt. Set aside while you prepare filling.

Put onions in a cold skillet and fry with a little oil or butter until soft. Remove from pan. Add meat to pan and cook until crisp and evenly browned. Add back in onions. Drain off excess fat.

To make dough: Add the flour 1 cup at a time and mix well. Add as much of the flour to make a soft dough. Once dough has formed, turn out onto a floured surface and knead like bread dough. Pat out dough to 1/2 inch thickness. cut into 2 inch rounds, a biscuit cutter works well. Spoon about 2 teaspoons of the filling into the centre of one of the rounds. Cover with another round. Seal edges well, and shape into a ball.

Bring the 2 quarts of water and 2 tsps salt to t boil in a heavy saucepan. Once the water is boiling add dumplings one at a time, so that boiling does not stop. Cook only as many dumplings at one time that will float uncrowded, one layer deep. Cook 15 minutes, then remove with a slotted spoon. Put in a warm dish and serve with melted butter and jam. A simple salad goes nice along side.