Bibingka (Sweet Rice Flour)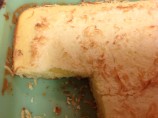 Photo by callemoo
Prep Time: 5 mins
Total Time: 45 mins
Yield: 24 pieces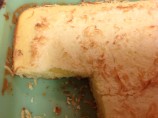 Photo by callemoo
About This Recipe
"Made with Mochiko (sweet rice flour) and coconut milk. This is one of my favorite Filipino desserts that I had growing up. Pieces of this dessert are like eating Pringles...you can't eat just one."
Ingredients
16 ounces mochiko sweet rice flour ( 1 box)

1/2 cup butter ( 1 stick)

2 cups sugar

4 eggs

1 teaspoon vanilla

1 teaspoon baking powder

1/4 teaspoon salt

8 ounces sour cream

14 ounces coconut milk ( 1 can)

1/2 cup shredded coconut (optional)
Directions
Preheat oven to 350 degrees and butter or spray a 9 x 13 glass dish.

Cream the butter, sugar and eggs in a bowl.

Add remaining ingredients and blend well.

Pour into glass dish and bake for 40-50 minutes.

Edges should have a nice light brown color while the middle is a nice cream color. Eat hot or cold.

(Optional) I like to add the shredded coconut to the batter. For the last 15 minutes of baking, I also like to take some of the shredded coconut and sprinkle it to the top of the cake to toast the coconut. Very delicious!