Chicken Pie - Cheap and Cheerful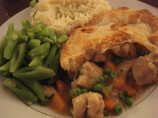 Photo by JoyfulCook
Prep Time: 20 mins
Total Time: 1 hr 15 mins
Servings: 4-6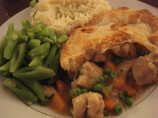 Photo by JoyfulCook
About This Recipe
"Made on the spur of the moment - a delicate chicken pie, loaded with flavor and diced vegetables, so easy to make. Wonderful comfort food and easy on the pocket too - Chicken thighs have loads of flavor and are much cheaper"
Ingredients
2 tablespoons oil

3 tablespoons flour

750 g chicken thighs

1 brown onion, small dice

1 garlic clove, crushed

1 celery rib, small dice

150 g carrots, small dice

2 chicken stock cubes

1 vegetable stock cube

1 bouquet garni

1 teaspoon herbes de provence

100 g frozen peas

1 teaspoon black pepper, cracked

salt, to taste

1 1/2 cups water, approx

1 tablespoon parsley, chopped

cayenne pepper, a few shakes (optional)

0.5 (17 ounce) packets puff pastry
Directions
This pie does not have a lining of pastry only a lid on the top.

Skin the Chicken and take out any bone - this should leave you with at least 500 grams of meat. cut into chunks.

Dice the Carrots, celery and Onions. Crush garlic into the onion.

Flour the diced chicken and seal half in a skillet with a small amount of oil pan until it changes color, repeat until all the chicken has been done. place in a bowl.

Add some oil into your skillet or non stick frying pan, and slowly sauté the onions, garlic, carrot and the celery for at least 5 minutes.

Add the Stock Cubes, seasoning and hot water, bring to the boil, and simmer for 10 minutes. Add the chicken to the vegetables and simmer for a further 15 minutes. a few shakes of Cayenne pepper does bring the flavor out - use sparingly.

Add The frozen peas and parsley, and stir. the filling should not need thickening.

Place in a pie dish and roll out the pastry and place on top.

Cook in a Hot oven for approx 30 minutes.

You can make a smaller pie and freeze the other half of the filling.

Serve with Garlic mashed potatoes and a vegetable of your choice.