German-Style Beef Roast for the Crock Pot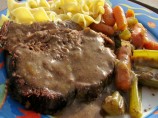 Photo by lazyme
Prep Time: 25 mins
Total Time: 8 hrs 25 mins
Servings: 8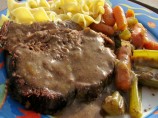 Photo by lazyme
About This Recipe
"Red wine or beef broth, chopped dill pickles, and zesty mustard set this succulent beef pot roast apart from the rest. The cooking time makes it just right to set in the morning and have dinner ready when you get home."
Ingredients
1 (2 1/2-3 lb) boneless beef chuck roast

1 tablespoon cooking oil

2 cups sliced carrots ( 2)

2 cups chopped onions ( 2 large)

1 cup sliced celery ( 2 stalks)

1/2 cup chopped kosher dill pickle ( or to taste)

1/2 cup dry red wine or 1/2 cup beef broth

1/3 cup German mustard

1/2 teaspoon fresh coarse ground black pepper

1/4 teaspoon ground cloves

2 bay leaves

2 tablespoons all-purpose flour

2 tablespoons dry red wine or 2 tablespoons beef broth

hot cooked spaetzle noodles or cooked noodles

snipped fresh parsley (optional)
Directions
Trim fat from meat.

If necessary, cut roast to fit into a 3-1/2- or 4-quart slow cooker.

In a large skillet brown the meat on all sides in hot oil and drain fat.

In the cooker, combine the carrots, onions, celery, and pickles.

Place the meat on top of vegetables.

In a small bowl combine the 1/2 cup red wine, the mustard, pepper, cloves, and bay leaves.

Pour over meat and vegetables in cooker.

Cover and cook on low-heat setting for 8 to 10 hours or on high-heat setting for 4 to 5 hours.

Remove the meat from the cooker and place on a serving platter; cover with foil to keep warm.

FOR GRAVY:.

Transfer vegetables and cooking liquid to a 2-quart saucepan.

Skim fat and discard bay leaves.

In a small bowl, stir together flour and the 2 tablespoons wine. Stir into the mixture in saucepan.

Cook and stir over medium heat until thickened and bubbly.

Cook and stir for 1 minute more. Serve with vegetables, gravy, and hot cooked spaetzle.

If desired, sprinkle with parsley.