Garlic Mashed Winter Vegetables (Ww Core)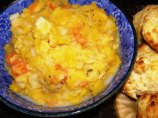 Photo by DuChick
Prep Time: 10 mins
Total Time: 20 mins
Servings: 4-6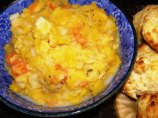 Photo by DuChick
About This Recipe
"Tired of mashed potatoes? This offers a delicious change of pace with a tasty blend of flavors and textures."
Ingredients
2 medium potatoes, peeled and sliced 1/2 inch thick

2 medium carrots, peeled and sliced 1/2 inch thick

12 ounces butternut squash, peeled and cut into chunks

1 medium parsnip, peeled and cut into 1/2 inch chunks

5 garlic cloves, peeled and halved

1/4 cup nonfat sour cream

1/4 cup fat-free chicken broth, at room temperature or warmed up a bit

2 -3 teaspoons fresh thyme, chopped

1/8 teaspoon black pepper, to taste

1/8 teaspoon salt, to taste
Directions
Place all of the vegetables in a large saucepan and cover with water. Bring to a boil and cook until all of the vegetables are cooked, about 12 minutes. Test by piercing different pieces with a fork.

Drain the water from the pot. Add the broth and sour cream and mash by hand. If your family prefers smooth and creamy, by all means use a mixer. Add in the thyme, salt and pepper.

Add additional salt and pepper to taste. Serve hot.