Hazelnut Chicken With Pear Sauce & Blue Cheese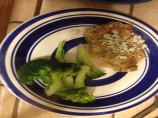 Photo by Chef Emstar
Prep Time: 45 mins
Total Time: 1 hr 15 mins
Servings: 6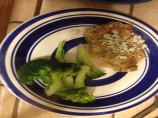 Photo by Chef Emstar
About This Recipe
"I had something similar in a restaurant, but it was deep fried and they used strawberry jam. This is my Oregon version of a generic recipe. If you don't care for blu cheese, feta works nicely. This can be served with a salad of tossed greens dressed with a vinagrette for a lunch or light dinner. Try a rose wine or a fruit flavored beer to accompany. Preparation time includes chill time."
Ingredients
Chicken

2/3 cup hazelnuts, toasted and coarsely ground

1/4 cup breadcrumbs, dry

1/4 cup flour, divided

1/4 teaspoon salt

2 tablespoons olive oil, divided

1 egg

1/2 cup milk

6 boneless skinless chicken thighs, removed

Pear Sauce

3 pears, ripe

2 tablespoons butter, softened

1/8 teaspoon ground nutmeg

1/2 cup blue cheese, crumbled
Directions
Use about half the flour to lightly coat the chicken.

Add the remaining flour to the nuts, bread crumbs and 1 Tablespoon oil, mixing well.

Beat the egg and milk together.

Dip each chicken piece into the milk mixture, then completely coat with nut & crumb mixture. Set on a cake rack over a baking pan and chill for 30 minutes.

Set oven to 350F and remove chicken from refrigerator.

Clean any crumbs out of the pan and coat the pan with the remaining olive oil.

Cook the chicken 30 minutes, turning once. Check with a thermometer.

While the chicken is cooking, peel and core the pears.

Mash with the butter and nutmeg until smooth and creamy. (Or use the food processor).

Plate by placing a portion of sauce on the plate, with the chicken on top. Sprinkle with the crumbled cheese.