Thundaai (U Roll the Tongue While Pronouncing the "th"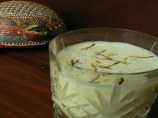 Photo by Udita
Prep Time: 10 mins
Total Time: 10 mins
Serves: 6, Yield: 6 glasses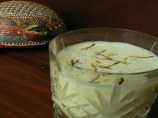 Photo by Udita
About This Recipe
"Thundaai is a very popular drink in Northern India.This famous dried nuts, seeds and saffron flavoured milk was traditionally prepared as an offering to Lord Shiva during the festival of Shivratri. It is often mixed with 'bhaang' to make the drink intoxicating. It is an excellent cooling drink for the summers. "Thunda" means cold in Hindi, hence the name."
Ingredients
1/2 liter whole milk

1/4 cup powdered sugar

5 peppercorns

3 saffron strands

1/4 cup almonds

1 tablespoon poppy seed

1 tablespoon fennel seed

1/4 teaspoon cardamom
Directions
Grind the almonds, sugar, peppercorns, poppy seeds, fennel seeds and cardamom into a very fine powder or into a very fine paste adding a little water.Mix rest of the ingredients with this and chill for about 4 hours. Strain this through an muslin cloth and serve chilled(adding ice to this drink will dilute the drink and hence will loose some of the taste).