Ice Cream Pail Refrigerator Pickles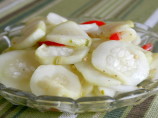 Photo by Cookin-jo
Prep Time: 40 mins
Total Time: 2 hrs 40 mins
Serves: 24, Yield: 4 litres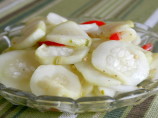 Photo by Cookin-jo
About This Recipe
"The method and proportions make this recipe a bit different. Allowing the salted vegetables to sit for a few hours draws out the water and allows the cucumbers to stay crisp and crunchy, just how we like them. The pickled cucumbers will keep in the fridge at least a month or two, but I can't say exactly how long.....they never last that long!!! Recipe from my late Mother-in-Law."
Ingredients
8 -10 large cucumbers ( or enough to almost fill a 4 litre ice cream pail or fill a gallon container about 3/4)

1 -2 cup onion, sliced

1 cup celery, sliced ( I always omit this) (optional)

1 -2 cup green bell peppers, sliced (or a combination , use whichever you like) or 1 -2 cup red bell pepper ( or a combination , use whichever you like)

1 tablespoon salt

For the brine
Directions
Peel and slice cucumbers thinly, filling ice cream pail as you go to 3/4 full.

Mix with the additional vegetables and stir in salt, distributing well.

Cover and let stand 2 - 4 hours on counter.

Drain off the liquid (I like to rinse and drain again to remove some of the salt).

In ice cream pail combine brine ingredients and stir well. Do not worry if the sugar doesn't dissolve completely - it will on its own.

Mix in cucumbers and other vegetables, cover, and refrigerate.

The next day stir again.

Note: The brine won't cover the cucumbers completely at first so stir once a day. The cucumbers will release additional liquid over time.

Cooking time is standing time.