Savory Brussels Sprouts With Smoked Sausage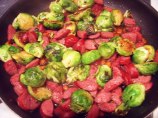 Photo by Maryland Jim
Prep Time: 15 mins
Total Time: 40 mins
Servings: 6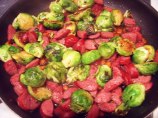 Photo by Maryland Jim
About This Recipe
"I admit I hated them as a kid too. I was at deer camp a few years ago and one of my uncles brought a bunch he had from the farmers market. Knowing my culinary aptitude, he tossed the bag at me and said "see what you can do with these" This being a hunting camp, the pressure was on. I couldn't make some fancy dish, so I tried to keep it simple and came up with this. You can use any smoked sausage you like, I prefer a Portuguese linguisa, but you can use kielbasa, bacon or ham as well. You can omit the crushed red pepper if you don't like a bit of heat. Can be served as a side dish or a main course. This is the only way to eat brussel sprouts IMO."
Ingredients
1 lb Brussels sprout, washed and cut in half

1/2 lb smoked sausage, diced

1 medium carrot, diced

2 garlic cloves, minced

1/2 teaspoon crushed red pepper flakes

1 -2 tablespoon olive oil or 1 -2 tablespoon butter

1/2 cup chicken stock or 1/2 cup vegetable stock

salt and pepper, to taste
Directions
Sauté sausage in a large sauté pan over medium heat until it starts to get some color. Remove from pan but do not discard the drippings. Leave the drippings in the pan.

To the pan add the oil/butter, garlic, red pepper, carrot, and brussels sprouts. Sauté over medium heat until the sprouts begin to brown. Add the cooked sausage back to the pan. Toss to mix.

Deglaze pan with the stock, continuing to cook until the liquid in the pan is almost gone. Remove from heat and serve while hot.