Weapon of Mass Destruction Chili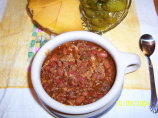 Photo by Susie in Texas
Prep Time: 20 mins
Total Time: 3 hrs 5 mins
Servings: 4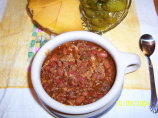 Photo by Susie in Texas
About This Recipe
"Warning: no FDA-approved antidote yet exists"
Ingredients
1/2 cup soaked pinto beans, drained

1 tablespoon oil or 1 tablespoon bacon drippings

1 large onion, sliced

1/2 green pepper, chopped

2 cloves garlic, minced

2/3 lb boneless pork, cut into ½ inch cubes

1/3 lb stew meat, cubed

1 (16 ounce) cans whole tomatoes

2 tablespoons chili powder

1 jalapeno peppers or 1 serrano pepper, diced

1 teaspoon dried oregano

2 teaspoons cumin

1/3 cup dry red wine

salt

fresh ground pepper

2 tablespoons tortilla flour, mixed in water to form a paste
Directions
Combine water and beans in medium saucepan and bring to boil over medium high heat.

Reduce heat and simmer until tender, about 1 hour.

Heat the oil or drippings in a large skillet over medium-high heat.

Add the onion, green pepper, and garlic; sauté until tender.

Transfer to a Dutch oven and set aside.

Add the pork and beef to the same skillet; brown well.

Stir the meat into the vegetables in the Dutch oven.

Add the beans and their liquid along with the tomatoes and seasonings.

Mix well, cover and simmer for 1 hour.

Add the wine and cook, uncovered, for 30 minutes.

Season with salt and pepper.

If the mixture is too liquid, stir in some of the tortilla flour paste to thicken.