Honeyed Fig and Blueberry Jam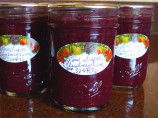 Photo by Rita~
Prep Time: 1 hr
Total Time: 1 hr 30 mins
Serves: 75, Yield: 8 8 ounce jars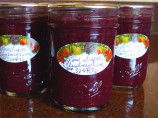 Photo by Rita~
About This Recipe
"This is a variation of my Blueberry Fig Jam "very Low Sugar" Blueberry is a big requested jam. I had lots of fresh figs so I combined the 2 and made this. Using only 1/4 cup of sugar and 1 cup honey. I did crush the figs and blueberries in the food processor. Check out infused honey for optional flavors http://www.food.com/cookbook/infused-honey-130206 Cookbook #130206"
Ingredients
236.59 ml honey

709.77 ml crushed figs

473.18 ml crushed blueberries

236.59 ml blueberries

59.14 ml fresh lemon juice

709.77 ml apple juice

118.29 ml water

59.14 ml sugar

49.61 g no sugar needed pectin

2 cinnamon sticks (optional)

4.92 ml grated ginger (optional)

1 vanilla bean, split (optional)
Directions
Mix pectin and sugar together.

In a large pot add remaining ingredients with the pectin mixture.

Bring to a full rolling boil. About 10 minutes.

Test for jelling.

Pour into sterilized jars leaving 1/4 head space.

Be sure to remove vanilla bean and cinnamon sticks if used.

Wipe rims and place sterilized lids and rings on.

Process in a boiling water bath covered by 2 inches of water.

Altitude times.

1,000-3000 for 5 minutes.

3000-6000 for 10 minutes.

6000-8000 for 15 minutes.

8000-10,000 for 20 minutes.

Remove jars and cool for 12-24 hours.

You can remove rings and wipe jars.

Label.

Store in a cool dark place.