Best Ever - Make Ahead Potatoes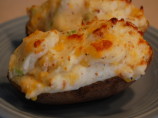 Photo by PrimQuilter
Prep Time: 15 mins
Total Time: 1 hr 45 mins
Serves: 8, Yield: 8 Half- Potatos (some male guests have been known to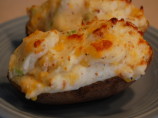 Photo by PrimQuilter
About This Recipe
"If you have looked at any of my other recipes, you will see I am a lover of creating copycat recipes!!! This one is a tribute to Moxie's Stuffed Baked Potato. It is one of the many most requested by dinner guests in our home!!!"
Ingredients
4 potatoes ( For Serving)

2 -3 potatoes ( Extra Boiled and mashed if needed (boxed work too)

1 cup bacon bits ( NOT simulated)

1 tablespoon garlic

1/4 cup butter ( more or less depending on your taste)

1 -2 tablespoon milk

1 cup shredded cheese, of your choice

8 tablespoons chives (to garnish) or 8 tablespoons green onions ( to garnish)
Directions
Slice 4 Potatos in half length ways and wrap in foil (2 together making a whole potato) Bake for 1 hour at 400-425 Or until baked through.

Boil the remaining potatos, or prepare a box of instant mashed potatos set aside.

Remove the baked Potatos from the oven, and scoop out middle leaving enough potato that the skin wont collapse.

Place the scooped out portion and the prepared mashed potatos in a bowl, with the butter, garlic, milk and cheese mix well then add bacon bits and continue mixing.

At this point you may spoon them into the potato shell, or fill a large piping bag wiht large star tip and pipe it in as I do.

Once you have filled them, pop them in the oven at 200 or so to keep warm, or make earlier in the day and bake at about 350 for about half an hour.

Garnish with green onion (I peel mine with a veggie peeler to make curly strips) or Chives.