Tropical Chicken With Mango Yogurt Dipping Sauce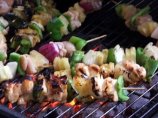 Photo by SueVM
Prep Time: 30 mins
Total Time: 45 mins
Servings: 6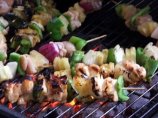 Photo by SueVM
About This Recipe
"We were invited to a BBQ by our neighbour and someone brought along this delicious skewered chicken and mango dipping sauce. Being the foodie that I am and loving the taste of the fruit, chicken and dipping sauce I pleaded for the recipe."
Ingredients
1 large mango, peeled

1/4 cup plain yogurt

1 jalapeno pepper, seeded and coarsely chopped

1 lime, juice of

1 green onion, coarsely chopped

salt, to taste

1/2 fresh ripe pineapple, peeled and cut into chunks. ( Tinned will work too)

3 boneless skinless chicken breasts, cut into cubes

2 small green bell peppers, cut into chunks ( or 1 red and 1 green)

1 small red onion, cut into chunks

1/2 teaspoon salt

fresh coarse ground black pepper, to taste

nonstick cooking spray ( if needed)

6 bamboo skewers, soaked in cold water for at least 30 minutes
Directions
To prepare dipping sauce place mango in a food processor or blender, add yogurt, jalapeno, lime juice, green onion and salt.

Pulse until smooth and refrigerate until needed.

Thread cubed chicken, pineapple, green peppers and red onion onto the soaked bamboo skewers sprinkling with salt and pepper.

Heat BBQ or charcoal grill to medium heat and spray with cooking oil if needed.

Place skewers on grill and cook 5 to 7 minutes per side turning as needed until the chicken is thoroughly cooked.

Serve with the dipping sauce.