Chipotle Mexican Grill Barbacoa Burritos by Todd Wilbur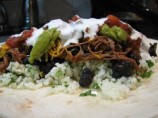 Photo by azulpacifica
Prep Time: 20 mins
Total Time: 20 mins
Serves: 8, Yield: 8 burritos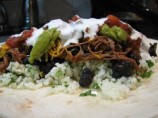 Photo by azulpacifica
About This Recipe
"Recipe is from www.TopSecretRecipes.com I received an email today from Ron from RecipeSecrets.net and here is what he had to say: Ron here from RecipeSecrets.net - hope all is well. When I used to work in NY city, I would eat lunch at Chipotle Mexican Grill at least twice per week. I simply loved their burritos and I was not the only one. The line would literally be out the door starting at 12:30pm. We would fax in our orders in advance to avoid the ridiculous lines - that was until other people caught on and began faxing in their orders also :-(. Even so, it was always well worth the wait. Here's a recipe from Chipotle which I'm sure you'll love. Special thanks to Kaci for posting this on the Secret Recipe Forum."
Ingredients
Barbacoa

1/3 cup apple cider vinegar

3 tablespoons lime juice

3 chipotle peppers, canned ( or you can use 4 - no sauce)

4 garlic cloves

4 teaspoons cumin ( toast and grind whole seeds)

2 teaspoons dried Mexican oregano

1 1/2 teaspoons ground black pepper

1 1/2 teaspoons salt

1/2 teaspoon clove ( toast and grind whole cloves)

2 tablespoons vegetable oil

4 lbs chuck roast

3/4 cup chicken broth

3 bay leaves

Pico de Gallo

4 medium tomatoes, diced

1/2 cup red onion, diced

1/4 cup fresh cilantro, minced

2 tablespoons jalapenos, minced

2 tablespoons lime juice

1/4 teaspoon salt

Pinto Beans

3 (15 ounce) cans pinto beans ( with liquid)

3 tablespoons bacon fat ( from cooking 3 to 4 pieces of bacon)

1/2 teaspoon dried Mexican oregano

Cilantro-Lime Rice

For Burrito

8 (12 inch) flour tortillas

cheddar cheese, shredded ( or Monterey Jack cheese)

guacamole (optional)

sour cream (optional)
Directions
Make adobo sauce by combining vinegar, lime juice, peppers, garlic, cumin, oregano, black pepper, salt and clove in a blender or food processor and puree on high speed until smooth.

Trim the fat from the meat, and then slice the roast into 6 smaller pieces. Sear all sides of the chunks of meat in 2 tablespoons of oil in a large stockpot or dutch oven over medium heat until browned. Add the adobo sauce to the meat, pour in the chicken broth, and add the bay leaves. Cover the pot, turn your stove to med/low heat and let the meat simmer (braise) for 5 to 6 hours or until meat easily flakes apart. Turn meat every 30 minutes as it cooks. After 4 hours, keep the lid off the pot. At the 5-hour mark, you should be able to tear meat apart into bite-size chunks with tongs.

As soon as your meat is in the pot, make pico de gallo by combining all ingredients in a bowl. Cover and chill for several hours while the barbacoa is cooking.

Just before meat is done, prepare the pinto beans by combining beans with bacon fat and oregano in a medium saucepan. Simmer 30 to 40 minutes or until most of the liquid is gone and beans are soft. Keep beans covered until the meat is ready.

Make the cilantro-lime rice by combining water, rice, butter and salt in a large saucepan. Bring to a boil over medium heat, then reduce heat to low, cover saucepan, and simmer for 20 minutes. When the rice is done stir in the cilantro and lime juice. Keep rice covered until you're ready to assemble the burritos.

Make each burrito by first heating a flour tortilla on a large skillet over medium heat, or wrapped in moist paper towels in the microwave. When the tortilla is warm, spoon a healthy portion of barbacoa meat into the tortilla, followed by the cilantro-lime rice, beans, pico de gallo, and your choice of cheese. You can also add sour cream and/or guacamole, if you like. Fold in the sides, tightly roll the tortilla, and dig in!