Banana Pancakes With Hazelnut Mascarpone Crème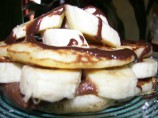 Photo by Baby Kato
Prep Time: 20 mins
Total Time: 32 mins
Servings: 4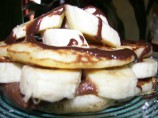 Photo by Baby Kato
About This Recipe
"Hazelnut cream is a delightful and satisfying sweet enjoyed throughout Europe, and in our opinion, Americans will love it equally well. Blending it with mascarpone cheese makes it a winner for spreading atop deliciously rich banana pancakes. This dish reminds us of Dad's Sunday morning pancakes, but we've elevated the presentation slightly above what Dad would have done, enough that it can be served as an elegant part of a casual brunch."
Ingredients
HAZELNUT MASCARPONE CREME

1 tablespoon nutella

1/2 cup mascarpone cheese

1 dash freshly grated nutmeg

1 teaspoon vanilla extract

HAZELNUT DRIZZLE

1 tablespoon powdered sugar

1/4 cup hazelnuts, cream paste ( such as Nutella)

1 tablespoon half-and-half

2 bananas, sliced for garnish

BANANA PANCAKES

2 cups sifted all-purpose flour

4 teaspoons baking powder

1 teaspoon salt

4 tablespoons sugar

1/4 teaspoon freshly grated nutmeg

2 eggs

2 cups milk

6 tablespoons butter, melted

1 large banana, mashed

4 teaspoons lemon juice
Directions
Prepare the hazelnut mascarpone crème:.

In a small bowl mix together mascarpone cheese, hazelnut cream, nutmeg, vanilla and powdered sugar until well blended. Set aside.

Prepare the hazelnut drizzle:.

Place 1/4 cup hazelnut cream in microwave safe bowl and heat in microwave on high for 20 seconds or until melted. Add half and half and stir to combine well. Mixture should be syrupy.

Prepare the banana pancakes:.

Slowly preheat a heavy pancake griddle.

Mix together, flour, baking powder, salt, sugar and nutmeg.

In a separate bowl, beat eggs and add milk, butter, mashed banana and lemon juice.

Mix until well blended.

Pour wet ingredients into flour mixture; mix just until combined.

Batter should be lumpy.

TO SERVE:.

Lay one pancake down on the serving plate. Place a few banana slices on one edge, and spread mascarpone cream on the pancake. Top with another pancake, sliding a few more banana slices between the mascarpone and the top pancake. Top with remaining banana slices. Drizzle with a small amount of hazelnut syrup.

VARIATION:.

You may also use this sweet and creamy mascarpone filling on bagels. Simply choose a plain or egg bagel (no seeds), slice and toast.

Spread mascarpone mixture on bagel halves.

If desired, place sliced bananas on top and/or drizzle with hazelnut syrup for a decadent topping (may require fork and knife!).