Falafel (Middle East, Palestine)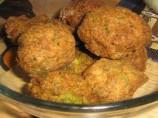 Photo by Jamilahs_Kitchen
Prep Time: 8 hrs
Total Time: 8 hrs 10 mins
Serves: 8-10, Yield: 8.0 pieces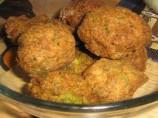 Photo by Jamilahs_Kitchen
About This Recipe
"This is a great breakfast dish, and is very delicious to make for suhr during Ramadan!! Enjoy :)"
Ingredients
4 cups dried garbanzo beans

2 large onions

1 whole head of garlic

2 bunches parsley

hot green pepper, to suit your taste

2 teaspoons cumin

salt and pepper

1 teaspoon baking powder

1/4 teaspoon baking soda

oil ( for deep frying)
Directions
Soak the chick peas overnight. Drain.

Combine beans, onions, garlic, parsley, and hot pepper. Grind twice (Suggested is an electric meat grinder). Add salt, pepper, cumin, and baking powder. Mix thoroughly.

When ready to fry the falafel, add baking soda. Shape into patties 1 1/2 inch diameter and 1/2 inch thick.

Fry in deep hot oil until light brown and crisp.

Serve hot with tomato slices in arabic bread (or pita bread) in the form of a sandwhich. If desired, you can add to the sandwhich tahnia sauce and slices of onions.

*The falafel batter can be frozen. Thaw and add baking soda just before frying.