Bread Pudding With Blueberries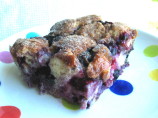 Photo by flower7
Prep Time: 10 mins
Total Time: 50 mins
Serves: 4, Yield: 1 pan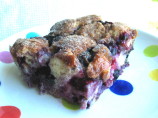 Photo by flower7
About This Recipe
"This is a cross between my two favorite breakfast foods: french toast and blueberry muffins! This recipe has less sugar than a lot of other bread puddings I have seen which I love about it, and wheat bread works fine too. You can add the optional cinnamon sugar topping for an extra sugary crunch before baking, or it is great with cinnamon syrup or vanilla sauce over the top!"
Ingredients
5 cups dry bread, cubed

1 cup fat-free half-and-half

4 eggs

3 tablespoons sugar

1 teaspoon cinnamon

1 dash salt

1/4 teaspoon vanilla

1/4 teaspoon almond extract

1 cup blueberries

1/4 cup cinnamon sugar (optional)
Directions
With a whisk, combine half and half, eggs, sugar, cinnamon, salt, vanilla and almond extract in a large bowl.

Add bread cubes and stir until well coated.

Fold in blueberries.

Pour mixture into a greased 8x8 pan.

Sprinkle 1/4 cup cinnamon sugar evenly over the top.

Bake at 350 for 35-40 minutes or until a knife inserted into the center comes out clean. (For firmer consistency, baking time may be a little longer).

Serve with cinnamon syrup or vanilla sauce.