Miss Kitty's Evolutionary Potato Salad (By Florida Native)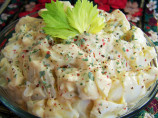 Photo by Diana #2
Prep Time: 20 mins
Total Time: 50 mins
Servings: 12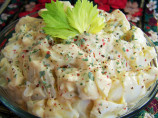 Photo by Diana #2
About This Recipe
"This is my 'evolutionary' potato salad recipe. I started making this when I was about 17 years old, and have changed ingredients over the years until it got to this point -- now, I like it just the way it is! My biggest change was once I was making this for a party and mistakenly put chili powder in instead of paprika. I got upset, but added the paprika anyway, and off we went. I got more compliments on my "messed up" potato salad than on any other occasion! And it tasted GOOD. So I stuck with it. Some of the measurements are approximate (mayo especially) as I just dump stuff in, stir it up, and taste it until it's right. And how wet you like your potato salad is a personal thing. I just KNOW when it's the right consistency for our family."
Ingredients
8 -10 medium red potatoes, peeled, rinsed, and cubed

6 -8 hard-boiled eggs, coarsely chopped

2 celery ribs, finely diced

1 tablespoon Dijon mustard

1 -1 1/2 cup Hellmann's mayonnaise ( when adding mayonnaise, depending on how much mayo you like, add 1/2 cup at a time until the desired)

1/8 teaspoon chili powder ( to taste)

7 dashes paprika

sea salt

fresh ground black pepper

3 -5 dill pickle spears, chopped ( I use Claussen)
Directions
Peel potatoes, rinse, slice and cube. Place in boiling pot of water with salt and pepper to your taste. Boil 10-15 minutes, or until just tender when pierced with a fork.

Remove from heat, drain, and cool potatoes.

Peel and rinse HB eggs. Quarter, then coarsely chop in chunks. Set aside.

In a large bowl, add potatoes, celery, and eggs.

Add mustard, 1/2 cup mayonnaise, chili powder, and paprika. Stir to blend.

Taste test; add more mayo to your taste and sea salt and ground pepper to taste.

Add chopped dill pickles last and stir to mix.

Taste test again. Adjust mayo, salt and pepper if needed.

NOTE: Additional mayonnaise can be added to get salad to desired consistency. I usually add a little "extra" as it seems to get absorbed by the potatoes and I don't like it dry.