White Chocolate Strawberry Crispy Treats (Microwave)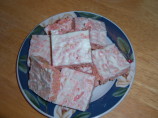 Photo by SrtaMaestra
Prep Time: 5 mins
Total Time: 10 mins
Serves: 24, Yield: 24 squares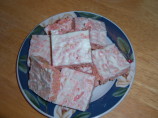 Photo by SrtaMaestra
About This Recipe
"I adapted this from the recipe on the package of strawberry flavored marshmallows. This turned out delicious! The white chocolate is enough to drizzle over the top or spread very thinly. If you'd like a thicker layer, use 8-10 ounces. If you don't have the coating, you can use white chocolate chips and add a couple teaspoons of shortening when you melt them. Note: We decided that the 6 ounces spread thinly (as in photo) was pretty sweet. Next time I think we'll just drizzle 4 ounces. Hope this helps you decide how you would like it best! :D"
Ingredients
3 tablespoons butter or 3 tablespoons margarine

1 (10 ounce) bags marshmallows ( strawberry flavored)

5 cups Rice Krispies

6 ounces almond bark or 6 ounces white chocolate confectionary coating
Directions
Microwave the white chocolate in 30 second increments, stirring after each heating, until chocolate is completely melted and thin. Set aside.

Microwave the butter in a large microwaveable bowl until melted (30-45 seconds).

Add marshmallows and microwave in 30 second increments, stirring after each heating, until they are completely melted and the butter and marshmallows and butter are well blended.

Add cereal. Mix well.

Press into greased 13x9 pan, using buttered fingers.

Drizzle or spread white chocolate over the surface of the cereal mixture.

Cool in the refrigerator. Cut into 24 squares.