Roasted Asparagus With Olive Oil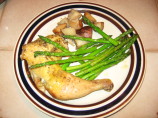 Photo by Papa D 1946-2012
Prep Time: 5 mins
Total Time: 15 mins
Servings: 4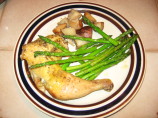 Photo by Papa D 1946-2012
About This Recipe
"Roasting lends a sweetness to asparagus that you don't get by boiling or steaming."
Ingredients
1 1/2 lbs asparagus

2 1/2 tablespoons extra virgin olive oil

1 teaspoon salt ( to taste)
Directions
Preheat oven to 450°F Snap off tough ends and place on a shallow rimmed baking sheet large enough to hold in a single layer:.

Drizzle with olive oil, and sprinkle with salt.

Toss the asparagus, making sure that each spear is coated with oil. Bake until the spears are lightly browned and tender, about 10 minutes. Serve immediately.