Mexican Take-Out Arroz Rojo (Red Rice)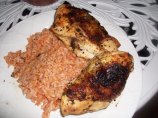 Photo by mightyro_cooking4u
Prep Time: 30 mins
Total Time: 1 hr 5 mins
Servings: 8-10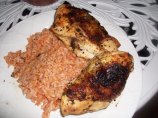 Photo by mightyro_cooking4u
About This Recipe
"We bet the dishwashers in Mexican restaurants see a lot of rice go through their station. It must win the contest for the dish most frequently served, but least eaten. That's because it's usually mushy and flavorless, like it's just holding a spot on your plate where you can plant the parsley garnish you're also not going to eat. Our version, with rice cooked to perfection in spiced tomato stock, is so good it could be the star of the plate. It also makes a great vegetarian addition to burritos. From the Take-Out Menu Cookbook."
Ingredients
3 tablespoons vegetable oil

1 medium onion, finely chopped

2 serrano chilies, stemmed and seeded

2 garlic cloves, chopped

3 cups long-grain rice, rinsed

1 (28 ounce) cans whole tomatoes

1 1/2 teaspoons salt

2 tablespoons fresh lime juice
Directions
Preheat the oven to 350º.

Heat the oil in a large, heavy saucepan set over medium heat. Add the onion, chiles, and garlic and saute until translucent, about 5 minutes, stirring constantly. Add the rice and cook until it begins to turn golden brown, about 5 more minutes.

Meanwhile, combine the tomatoes, salt, and lime juice in a blender and puree.

Add the tomato puree and 1 1/2 cups water to the saucepan and stir to combine. Transfer the rice to a 4-quart baking dish or casserole, and cover with foil.

Bake for 35-45 minutes, or until the liquid is absorbed and the rice is tender. Remove from the oven and let rest for 10 minutes. Fluff with a fork and serve hot.

Note: Leftover rice can be reheated in a microwave.